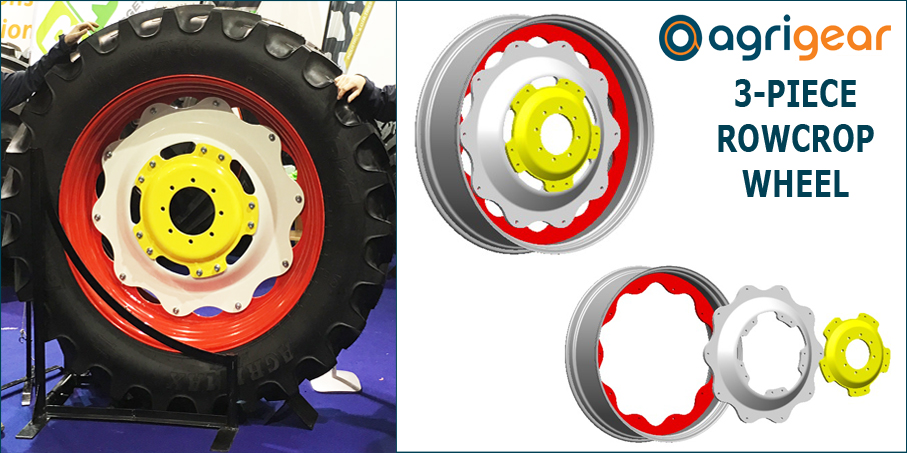 Rowcrop wheels are custom-designed and produced to your requirements here at Agrigear. We manufacture wheels for tillage equipment such as planters, sprayers and harvesting machines as well as for tractors of all sizes and powers. We can modify your existing rims to fit rowcrop tyres. Heavy-duty rowcrop wheels can also be manufactured to your unique specification.
Agrigear's 3-piece Rowcrop Wheel
Specially designed and engineered to suit farming requirements and modern machinery operating in Irish conditions, Agrigear's 3-piece rowcrop wheel offers a wide range of fitment options to suit your machine and track width requirements.
modular design offering flexibility and interchangeability, designed in line with ETRTO standards
precision manufactured using CNC technology
adaptability of centre piece to fit to different make of machine
multiple assembly options to fit to required track width
high quality paint finish available in a wide variety of colours, offering high corrosion and damage resistance
also available in 1 and 2 piece options
built for strength and durability based on Agrigear's 40 years wheel manufacturing experience
ROWCROP WHEELS MANUFACTURED BY AGRIGEAR
John Deere 6930 tractor fitted with 380/90R46 BKT Agrimax tyres on 3-piece 8stud adjustable rims and 380/85R30 tyres on 2-piece 10stud adjustable rims
New Holland T4.75 tractor fitted with 270/95R44 and 230/95R32 BKT Agrimax rowcrop tyres on fixed rims
John Deere 6170M tractor fitted with 380/90R50 and 380/85R34 BKT Agrimax rowcrop tyres on fixed rims
Contact Agrigear for further details about custom-made rowcrop wheel systems. Call us on +353 429 666 444 or email sales@agrigear.ie.