Founded in 1980 by Fred Clarke and located just outside Bailieborough in County Cavan, Agrigear Tyre and Wheel Specialists company is a renowned leader in the tyre and wheel industry throughout Ireland and beyond. With over 40 years' experience, Agrigear has progressed to become one of the largest wholesale tyre suppliers and wheel manufacturers covering the whole of Ireland.
Agrigear is the appointed distributor throughout Ireland of BKT tyres, one of the world's fastest growing tyre manufacturers. The BKT tyre product portfolio is extensive and showcases a wide range of agricultural, industrial and OTR tyres available in many sizes, as well as an impressive stock of ATV and lawn & garden tyres which are also available in a wide range of sizes. The Agrimax radial tractor tyre range from BKT is a well-established brand of preference among farmers and contractors throughout Ireland.
For car, van, SUV and 4x4 vehicles, Agrigear stocks an extensive range of tyres to choose from, across branded and budget lines. Offering amazing value on all ranges, there are tyre options to suit all budgets with tyre fitting and 3D laser alignment services available here at our premises.
The first-class wheel rim manufacturing and modification facilities here at Agrigear specialise in offering tailor-made wheels suited to customers' unique requirements and technical specifications. In addition, we work closely with Original Equipment Manufacturers and supply ideal wheel configurations for their machines. Agrigear's wheel reconditioning service offers restoration solutions for chipped or rusted wheels where shot-blasting and powder-coat painting services are carried out with care and precision, to restore used or old wheels to their former glory. We also offer a professional and efficient tractor wheel alignment service as well as a tyre vulcanising repair service here at our Agrigear premises.
With our highly skilled and experienced workforce of over 70 employees, Agrigear continues to go from strength to strength offering extensive product ranges, expert services and technical support. For advice or a quotation, please contact us by phone at +353 429 666 444 or email us at sales@agrigear.ie.
Follow this link to see 'Behind the Scenes at Agrigear' video with Founder & Managing Director Fred Clarke →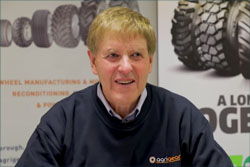 AGRIGEAR: FOR ALL YOUR TYRE & WHEEL REQUIREMENTS